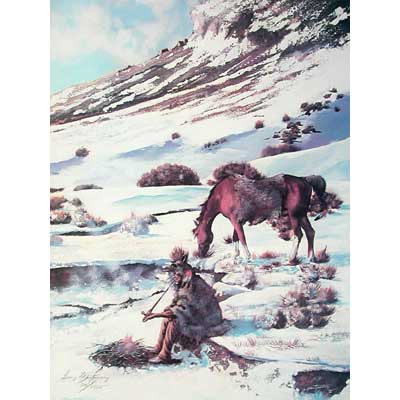 As The Great Spirit Protected All The Native American Indian Nations, The Great 'Brave' Hunters Would Often, After A Day Of hunting And "NO MEAT FOR THE FIRE", The Wise Hunters Would Stop Rest And Meditate, Smoke A Blend Of kinnikinnick.,Tabacco or Sumac leaves to Communicate With The Great Spirit to Guide Him To The Meat For His Family and Clan
This 1976 Signed Print #220 of Only 1500.
Sold Out OVER 20 Years Ago.
"No Meat For The Fire"
By Gary Montgomery is a Native Classic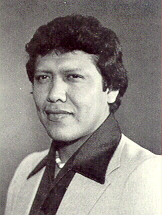 GARY MONTGOMERY, Is A Full Blood Seminole Native American Indian Artist, A Bear Clan from Shawnee, Oklahoma and is a member of the Masters Category of the Five Civilized Tribes Museum in Muskogee, Oklahoma. While Gary has numerous paintings in print his painting of "The Teacher" was the first he released himself. It won the Grand Award at the 1986 Trail of Tears Show. He went on to win many awards, including the Grand Award at the 1986 Masters Show of Five Civilized Tribes in Muskogee, Oklahoma, the Spirit of Oklahoma Award at the Masters Show in Muskogee, Oklahoma and the Presidents Award at the 1995 Red Earth Native American Cultural Festival for his painting entitled "White Wolf Guardians".He has won numerous awards and is a participant in the prestigious Aspen / Snowmass Celebration for the American Indian benefiting the Smithsonian Institute's Museum of the American Indian. He travels to many art shows including Red Earth and Gallup Intertribal Ceremonial. His Art is exhibited throughout North America. His Art Work conveyes emotion and gentleness along with mystical spirituality only Gary could paint .